Acuspira Acupuncture has been selected as one of the top acupuncture centers in New York City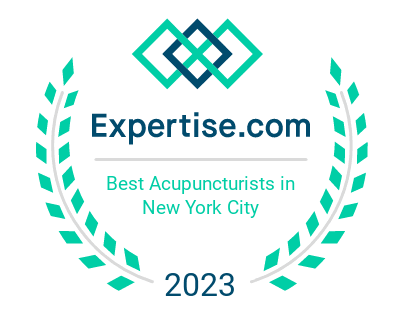 My health has improved dramatically since I've been seeing Suzanne Stolzberg at Acuspira Acupuncture.
I went to see her for pain related to an injury, and other health issues like sleep problems. I was scheduled to get a Cortizone shot for the injury, but Suzanne asked me to try a trigger point treatment instead. The trigger point treatment was extraordinary–rock hard muscle tension and pain that had resisted physical therapy, massage and medication suddenly disappeared.
I walked out feeling like I was floating, not sure how I could stand up straight without the brace of pain and tension I had become so accustomed to.
Under Suzanne's careful watch and treatment; acupuncture, cupping, herbal supplements and health and nutritional guidance, my health has blossomed. I highly recommend her.
Suzanne is a divine healer of the body, mind, and soul. It was absolutely necessary that I connect with her when I did. I was experiencing pretty severe chronic pain (amongst other issues) when I first met her 3 months ago.
Her treatments have helped immensely. Not only is her expertise with acupuncture beyond anything else that I've received, she has shown me the tools to self-heal, and has provided me with the awareness to envision a future of well-being and abundance. 
It is always easy to feel comfortable in a session with Suzanne. She is extremely personable with a great sense of humor (and style)! Her positive energy and grace radiate throughout the space. She is an attentive listener, patient, open-minded, and encouraging. She is also refreshingly direct; she will identify the root of the problem immediately, and her thorough analyses stem from years of experience. Her treatments are varied and tailored to each visit, after which you leave feeling deeply restored, more connected to self and surroundings, and eager to embrace life. 
I recommend Suzanne to nearly everyone I speak with. I am extremely grateful to have met such a wonderful light.
Suzanne is both a wonderful healer and a generous goddess.
After days of traveling in planes across the country, living out of a suitcase and dealing with a very challenging personal situation I was burnt out and out of sync with my self and the world. Suzanne's treatments and energy completely revived, replenished me and widened/deepened my capacities.
She is top of my list for nourishing 'must do's' when I come to NYC. I highly recommend Suzanne as a gifted inspiring healer with a talent for making you feel good again.
Suzanne worked her healing magic on me and I'm now officially hooked. Her gentle demeanor and easy going vibe made me feel comfortable immediately. She was thorough, kind and compassionate.
My only wish is that I lived in NYC. Please move to Los Angeles?
Suzanne's holistic approach to wellness, open/perceptive nature, and ability to communicate clearly have helped me forge a new relationship with myself, my body, and the world around me.
Her ability to translate conditions (e.g: stress, sleepless nights, digestive issues, anxiety induced sweating, etc…) into calming and restorative acupuncture sessions with lasting and measurable impact has converted me from a skeptic with no prior experience into a client with weekly bookings.
If you're unsure if acupuncture can help you, or if you're already familiar and looking for someone with a phenomenal table-side manner, comfortably appointed office, and serious subject matter sagesse, I cannot recommend Suzanne enough!
Whether you're looking to holistically resolve a specific health or medical condition or wanting a new approach to your overall well-being, I can't recommend Suzanne enough.
Not only has my specific health condition been completely resolved in less than a few months, I'm seeing significant benefits in other areas of my life (improved diet, reduced stress/anxiety, and motivation to pursue goals I was sidelining to name a few!).
Suzanne's extensive experience, calm demeanor, and ability to encourage her clients is truly unique and second to none. Suzanne also has some of the best products, retreats/classes, books, podcasts, etc out there.
Thank you for everything, Suzanne!
Suzanne is a true healer in every sense of the word.
I initially came to Suzanne because I was suffering from frequent headaches and neck/back pain. After seeing every specialist and taking many pills/injections, I realized my approach was off.
After two months seeing Suzanne, my pain has subsided and headaches are GONE.
Suzanne spends her time understanding your body – finding the root cause of the issue. Instead of masking the pain, she offers a holistic mind/body/soul approach. With her guidance, I have adjusted my diet and lifestyle in a way that centers, calms, and reduces anxiety and stress.
It has been an incredible transformation. I find myself smiling more, laughing more, thinking more creatively, and looking forward to waking up each morning to start a new day! Suzanne's light has brightened my life in so many ways and I cannot be more grateful.
Suzanne is a brilliant Healer!
I initially came to her for severe lower back pain and after the first session I was able to move again. Within three sessions it was completely gone: we worked on other issues including IBS, acid reflux, and sleep disorder with remarkable results.
Last winter I got that terrible bronchitis infection that was going around and I saw my MD who prescribed antibiotics which I wisely didn't take. He told me it would be two to three weeks and maybe months before I was back to normal, and this was three days before Christmas. I had to travel to see family where there would be elderly and infants in the home. I called Suzanne, made an appointment, and within 24 hours I was breathing normally and my cough had subsided. By the time Christmas rolled around I was perfectly healthy!
What impresses me most about her technique is that she goes not only to the physical but the psychological-spiritual-emotional roots of illness and wellness. I have recommended many friends and they are as convinced as I am. After traveling the world in search of alternative medicines and healers I can say Suzanne is the real deal!
I am a bass guitar player, and I started to feel pain in my wrist. This is the worst for a bassist and means I could be completely out of work.
My other musician friends who had wrist difficulties went to see western medical doctors, and got surgery or were prescribed heavy medications. I am really glad that I chose to see Suzanne, and had a wonderful session. She explained that the pain was from an imbalance in my body and was connected to different organs. Each session made the pain less and less, and at last—it was completely gone….!
Also, I could cure my worst cold without any antibiotics, shots, and medications. Her advice is on point, and her session is absolutely lovely and I always enjoy it fully.
I strongly suggest you see her and work together for better health naturally. Thank you Suzanne!
I turned to acupuncture to help me through some quite serious digestive issues.  After meeting Suzanne, I knew immediately I could open up to her, as I discovered a non judgmental, incredibly kind and knowledgeable person behind those delicate golden frames.
As we worked together, delving into my anxiety related digestive issues, we were confronted with layers of emotions and situational distress, all of which were intricately linked to this physical distress.
While it is obvious that our external situation and our emotional and physical states are linked, it can be incredibly difficult to break things down in a way that allows us to see clear enough to confront that which needs attention.
Suzanne was there for me as I allowed myself to confront these elements of my life.  She did not judge. She did not force anything.  She did not tell me what to do.  She simply listened and observed while extending a supportive arm.  As an acupuncturist, she is deeply knowledgeable and talented.  As a person she is self aware, open, honest and compassionate.
Suzanne allowed me to break down without judgement.  She supported me in finding the strength and self love necessary to make some important life decisions which enabled me to begin the healing process.  She embraced me as I began to rebuild while extending a supportive arm and guidance.
I am so incredibly grateful for having met Suzanne.
I threw my back out a day before I was to take a 16-hour flight to South Africa: not a pleasant experience, when you're stuck on a plane for that long. It happened once before on a trip a few years ago and it was the most painful and uncomfortable flight ever.
Remembering the extreme pain I was in back then, I was hesitant to travel. After mentioning this to my dear husband, he quickly reminded me of his friend Suzanne who could perhaps help the situation. In desperation I agreed to see her, unconvinced that it would be sorted out overnight given what I went through the previous time this had happened.
After a calm and thorough consultation, Suzanne proceeded to lay me on her most comfortable table and went to work. Suzanne has the most gentle touch and disposition. She put me at ease and I was feeling better almost immediately!
The first time this happened, it took me almost two weeks to come right. Suzanne had me up and going the next day and by day three I was feeling like a kid again. In fact we got to Cape Town and took our first walk in the city that lasted several hours. Not bad, considering I could hardly walk when I paid a visit to Suzanne's zen office.
Thank you for making the trip happen. I highly recommend Suzanne!
Suzanne has the magic touch – she knows her practice deeply, and she works wonders for the body mind and spirit.
I have been seeing Suzanne almost every week for more than a year now, and it has been a remarkable healing process for me. I first went to her for stomach troubles, and through our work on that problem she helped me to uncover and treat the causes, the physical troubles I've been walking around with unknowingly for years.
She is my weekly physical-mental-spiritual therapy, calming me when I'm anxious or stressed, helping me sleep better, improving my metabolism, strengthening me when I'm feeling weak. She is a wealth of knowledge, and connects the Chinese medicine of acupuncture with her expertise in nutrition, physiology, yoga, psychology, and spirit.
I've recommended her to many friends – if you have some hurts or aches or pains or struggles, you should see Suzanne, she will help you heal.
Suzanne is an amazing acupuncturist.
She took such care in analyzing my health condition and her treatments made a great difference. Life is so much easier to know I have an expert who can solve my physical problems. I really appreciate the dedication she puts into her work and I felt very cared about.
Suzanne goes way beyond what one would think of as an acupuncturist. After a bad fall, where I hit my head, hard on the sidewalk, I could barely make the three blocks to Suzanne's office. In one session, I was able to walk normally, home. She incorporates all modalities, that she can, as means to the healing process…diet, herbs, etc.
She is inclusive and sincerely interested in working on curing and taking care of your health.
Suzanne's work has helped me immensely to open up emotionally and heal physically.
Her belief in me to make major changes to my diet and lifestyle helps me believe in my own ability to make the positive changes. She does not put pressure on me to change things that I'm not ready for, and always encourages me to consider it and read the scientific evidence before committing to the change.
After working with her I'm sleeping better, I have less muscle aches, more belief in myself and generally a more positive attitude. I've also opened my heart up to romantic love after years of it being shut. The changes to my diet have helped me stay energized and look and feel better. And even when I fall off the wagon, she never lets me get discouraged. The meditations she's suggested have helped me gain insight and connect to my intuition. The acupuncture and massage has made my body and mind incredibly relaxed and open.
She is incredibly generous with her time, and gives me whatever I need during our appointments, which changes every time depending on what's going on with me that day. She's always available seven days a week to support me and send me articles, words of encouragement and advice.
I'm grateful to have found such a heart centered practitioner and expect to keep her in my life for the long haul.
I can't wait to see how else my life blossoms after working with her longer.
Suzanne truly loves what she does, and has been instrumental in the improvement of my health and well-being.
She is very knowledgeable and passionate about her work. Within moments of laying on the table I begin to feel the effects of her treatment. The stress from my day at work disappears and I become completely relaxed. By the end of the session I feel calm and rejuvenated. She is also very amiable, and a pleasure to work with.
Suzanne has been such a blessing. She has been really so wonderful in helping treat my frustrating digestive issues, that I truly never believed it would be this manageable! And it only has been a month and a half! I am so thankful for her. She has really helped me find the right diet and care regime for myself, with an approach to healing that is unique, all encompassing and thorough, carried out with a sensitive and caring touch.
I cannot recommend her more highly.
Yes, Suzanne IS as good as it gets. Not only is she brilliant, but Suzanne is one of the most caring people I have ever met. Through our meetings, I know that she had a previous, successful past life that she could easily have continued. Healing is, however, her passion and she pursues it totally to the benefit of her patients. Not only does your body feel better after seeing her, but your spirit is lifted too. How many of us can say that about our other healers be they doctors, dentists or osteopaths?
I don't want to offer so much praise that the line is out the door for her services, but I wish her all the good that comes her way.